Hi Domokies~
My computer finally arrived on Saturday! I wasn't there personally when it got delivered to my doorsteps, so I didn't get to unpack it. When I came home late at night my old Frankenstein computer was already replaced by this huge black shiny thing!
Oh but before I show you guys my current workstation, let me show you my previous workstation (photo taken about a year back):
Tadah~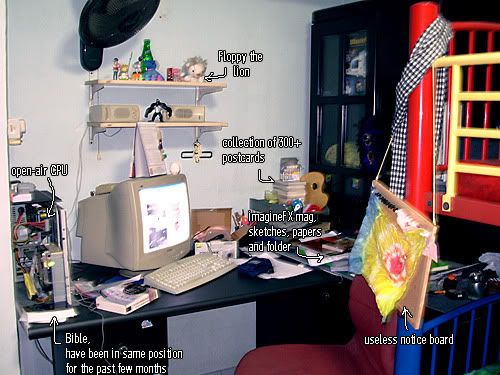 Ignore the grammatical error in the description. Ignore also, the incredible clutter on my desk. I still have no idea how I do any work in such conditions. : 0 Now marvel at the carcass of a CPU that I've been using for most of the past decade.
My dad is too good of an IT technician. And I'm too poor of a student. OTL
It was time enough for a total revamp, so after much consideration and much help, this was the result:
Sadly the camera has downgraded instead. (Actually I took the previous photo with my dad's camera, and the recent one with my phone's.) Next gadget to buy: DSLR! I will need to scrimp and save, borrow and beg for that one liao! Breadloaf FTW!
Lawl now my home battlestation looks like my workplace battlestation. All black~ Except for my Toshiba external hard-drive which is white. It's all neat and sleek now, but I reckon a few weeks of use and the desk would be cluttered again. Clutter and creativity both start with 'C'! (So does procrastination and productivity both start with 'P', but...)
Anyway, that's all from me today! I just went for Cosfest and watched Mr. Poppers (which is decent, by the by), so I returned home quite late. But I just gotta show off my new gadgets anyway. Tomorrow there will be a review post on a Skinfood product, so stay tuned~
Hope you guys have a nice day~
Signing off,
Ringo