Random art-related post amidst the deluge of product reviews! Sorry I haven't been posting much recently -- life has been good to me but it never lets up! Σ(@д@;)
I have a couple of product reviews that I will be doing soon (I've taken the photos, but haven't had time to do much else yet), but here's a intermission post for now to distract you!
Every first week of the month, the Organisation of Illustrators Council holds a Portrait Day from 2 to 7 pm at MADD. Posing is free, and some people even bring their pets to sit for a family portrait as well. Each drawing is only $10 and all proceeds will go to the respective artists. You need to book your slots beforehand though, since due to time constraints there's only 15 slots or less.
As for artists, you get to polish up your drawing skills and make friends at the same time. Everyone gets 20 minutes to draw the patron/ sitter at the same time, and as aforementioned, you get $10 per drawing sold. All skills level are welcome, but you gotta register first as seats are limited (free seating, so to get a good view, come early!). Artist registration fee is $10, though you can quite easily cover it if you make your works presentable, I think.
I went with my drawing kakis from
sgcafe.com
, and surprisingly met some familiar faces there (fellow schoolmates from TP, and a friend's friend from SP lol). Singapore is darn small man. Or rather, the art industry is tiny?
I'm kinda rusty after having not drawn traditionally (seriously anyway) for a while, and was going 'oh shit' every 5 minutes or so. We managed to stay till 7pm this time, and then had dinner at Quiznos. It's basically a sandwich cafe like Subway, but definitely more delicious. But more about that next time when I actually have some photos!
So on to the drawings instead: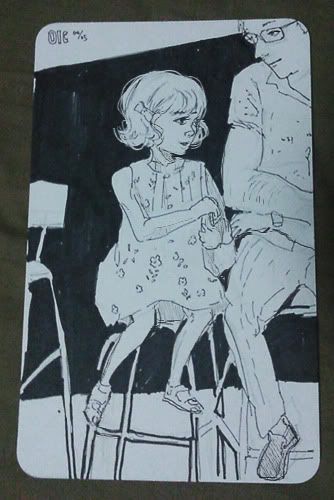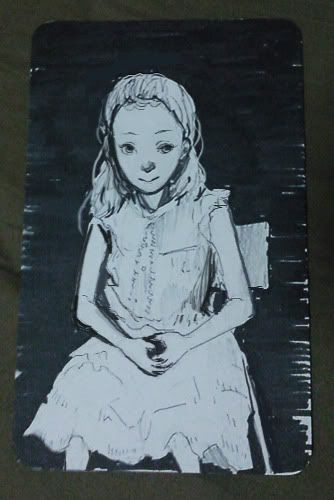 I wish I had ctrl-z like when I'm drawing traditionally, but there's a sense of fulfillment in drawing without erasing, I think. I did my undersketching in pencils first, and screwed up one of the drawings trying to erase some stray lines (pencil smudges OTL). The anatomy is kinda wonky still, but I had great fun that day! Hmm, and some drawings not shown because they were bought and I didn't have the forethought to take photos of them first...
After dinner we went to Delifrance to chill out, and I drew crumpled paper, lol.
And then I went home and drew somemore. OTL. Tested out a new way of working, as demo-ed by
sunshee
before she flew to London. Lawl, it was somewhat meant as a joke but I learnt a lot!
Kudos to those who can guess the character!
Signing off,
Ringo